Tak poznają przeszłość
Ośmioro młodych ludzi z niemieckiej organizacji Akcja Znaki Pokuty od kilku dni porządkuje teren Muzeum Walki i Męczeństwa w Treblince.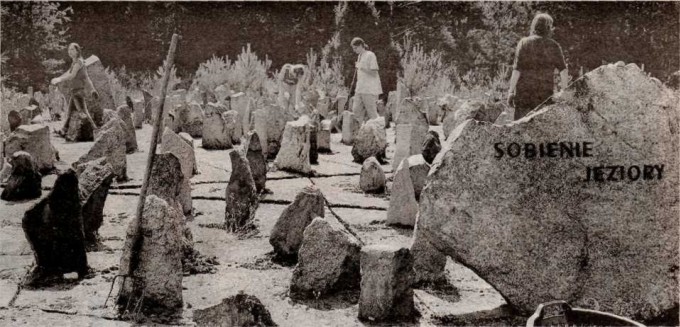 Siódemce młodych ludzi z różnych miast w Niemczech towarzyszy jako tłumacz Anna Witkowicz, studentka III roku germanistyki na Uniwersytecie Jagiellońskim. Ten wyjazd także jej ma pomóc w lepszym poznaniu zagadnień związanych z okresem II wojny światowej. – Przygotowuję się do pisania pracy magisterskiej o powieściach z okresu narodowego socjalizmu w Niemczech – mówi.
Zdążyli zaorać
Obóz zagłady Treblinka II działał od lipca 1942 r. do listopada 1943 r. i miał służyć realizacji hitlerowskich planów tzw. ostatecznego rozwiązania kwestii żydowskiej w Europie. Zginęło tu ponad 800 000 ludzi. Były dni, że w komorach gazowych uśmiercano, zaś na stosach palono od 15 do 18 tysięcy osób. Oprócz niego istniał także Karny Obóz Pracy przy istniejącej kopalni żwiru. Osadzeni tu byli zarówno Polacy, jak i Żydzi. Przez Karny Obóz przeszło ponad 20 tys. więźniów, z których połowa zmarła z wycieńczenia głodowego, wskutek tortur lub została rozstrzelana.
Obozy w Treblince zostały całkowicie zlikwidowane, gdy do miejscowości zbliżały się wojska radzieckie. W ich miejscu powstało muzeum.
Pamięć trwa
Dziś Muzeum Walki i Męczeństwa w Treblince obejmuje ponad 132 hektary, z czego 17 to teren dawnego obozu zagłady- mówi Edward Kopówka, kierownik muzeum.- Do prac porządkowych, czyli koszenia trawy i wyrywania chwastów, zatrudniamy jednego pracownika na stałe i dwóch sezonowo, dlatego każde ręce są ważne. Dla wolontariuszy praca zawsze się znajdzie, a przy okazji mogą oni poznać miejscowości związane z tragicznymi kartami historii. W miejscach takich jak Treblinka, Sobibór czy Bełżec, gdzie obozy zostały zniszczone odwiedzających nie przytłacza widok zgromadzonych włosów ofiar zagłady, czy pozostawionych przez nie rzeczy osobistych. W Oświęcimiu czasami sam widok wystarcza za komentarz.
Wolontariat w Niemczech pełni zupełnie inną rolę, niż w Polsce. Dla młodych ludzi to okazja, żeby zdobyć doświadczenia którymi mogą się później pochwalić przed potencjalnymi pracodawcami. Także urzędy pracy chętnie kierują bezrobotnych do organizacji społecznych. Z kolei dla kandydatów do Bundswehry wolontariat jest sposobem na odbycie zastępczej służby wojskowej.
Zdobyć doświadczenia
Grupą, która przyjechała do Treblinki kierują Jamila Martin i Janek Lassau. Jamila jako wolontariuszka pomaga starszym ludziom. Janek został wolontariuszem w Żydowskim Instytucie Historycznym w Warszawie. Zajmuje się niemiecką korespondencją z czasów wojennych. Isolde Gesch uczy w Niemczech historii. Jej rodzice przed 1945 rokiem mieszkali na terenach, które obecnie należą do Polski. Chcę uczyć moich uczniów nie tylko na podstawie wiedzy teoretycznej z książek, ale także na podstawie własnych doświadczeń – wyjaśnia motywy swojego przyjazdu. Eva Stellmacher studiuje w Berlinie, na kierunku który kształci przyszłych pracowników socjalnych. W maju miała okazję odwiedzić były obóz w Oświęcimiu. Przyznaje, że dla pokolenia niemieckich 70 czy 80-latków sprawa zagłady narodów podbitych przez hitlerowców to temat drażliwy, ale młodzież ma do zagadnienia inne podejście. Volker Prott – student historii i Jonas Janssen, który od jesieni chce studiować politologię mówią z kolei, że uważają za dobre rozwiązanie połączenie pracy fizycznej w miejscu dawnego obozu z pogłębianiem wiedzy o narodowym socjalizmie. Z kolei Martin Gniatezyk, choć urodził się w Szczecinie, to od 17 lat mieszka pod Hannoverem. On pobyt w Polsce traktuje jako przygotowanie do rocznego wyjazdu na Ukrainę. Będzie tam, jako wolontariusz, opiekował się starszymi osobami ze związku skupiającego przymusowych robotników z czasów II wojny.
B. Gontarz, Tak poznają przeszłość, "Życie Sokołowa", Nr 175 z 29.07.2005 r.
buy research paper