Janusz Korczak - Biography
Janusz Korczak, the pen name of Henryk Goldszmit was born on 22 July 1878 or 1879 in Warsaw. Korczak explained the lack of an exact annual date by his father's neglect of certificate formalities. He came from the Goldszmit family that had been living in Poland for many generations, which was connected with the educational movement – haskalah. His great-grandfather was a glazier, his grandfather a doctor, and his father Józef Goldszmit, a well-known Warsaw lawyer. His mother, Cecylia née Gębicka, came from a family that was not completely polonised. Apart from her parents and older sister Anna, her beloved grandmother, Emilia Gębicka, lived in the family house. It was she whom five-year-old Henryk confessed his secrets and dreams of a better world.
At the age of eight, he began his education in Augustyn Szmurło's primary school, where there was strict order. He was so deeply concerned about the punishment of caning that his parents had to take him away from school. While staying at home and preparing for the first year of gymnasium, he dreamt of a better world in which there would be no cruelty or injustice. These dreams were reflected in King Matt the First.
The main passion of 15-year-old Henryk Goldszmit was reading books. At that time he also dreamed of founding the Debut [Debiut] magazine, in which he would publish works rejected by other editors. At the age of seventeen, he began writing the novel Suicide [Samobójstwo], which he did not finish.
Henryk Goldszmit attended the Praga Gymnasium (Gimnazjum Praskie), where he studied in Russian. Henryk did not like school. He was rather an average student, but he was interested in literature, to which he devoted all his free time. Korczak's favourite place from his childhood and youth was the Saxon Garden (Ogród Saski), where he met his peers and older friends. His father's prolonged illness and death in 1896 forced Korczak to begin to work as a tutor to support his family financially. In 1896, he published his humoresque entitled The Gordian Knot [Węzeł gordyjski] in the satirical weekly The Thorns (Kolce), which initiated cooperation with the magazine and others. The first texts by Henryk Goldszmit were signed with the pen name Hen.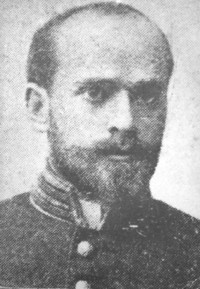 In 1898, he graduated from the gymnasium and, to the surprise of his friends, he enrolled at the Faculty of Medicine of the Imperial University of Warsaw. In the summer of 1899, he travelled in the footsteps of Pestalozzi and was also a member of the Zionist Congress in Basel.
It took Korczak six years to complete his medical studies, as he had to repeat the first year. He found a true scientific atmosphere at the Flying University, of which he became a student. At the same time, he became a member of the Summer Camps Society and the Warsaw Hygiene Society. He continued his literary development. Korczak wrote numerous articles and reviews in the weekly The Thorns and at the same time cooperated with other magazines. During his student years, he wrote his first novel Children of the Streets [Dzieci ulicy]. Korczak started teaching. He conducted classes on Stefania Sempołowska's secret finishing school, he also worked in a free reading room for poor children, and on Saturdays he organised games for the youngest in his apartment.
CHILDHOOD AND YOUTH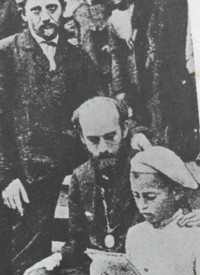 In 1900-1915, he was an active member of the Summer Camps Society. In the final phase of his medical studies he started working as a tutor at the camps. In 1904 and 1907, he ran camps for Jewish children in the holiday centre "Michałówka" in Daniłowo-Błędnica (Łomża Governorate), near the Małkinia station, for Jewish children. The name of the summer camp comes from the names of the sons Erlich and Endelman, who donated 14 morga of wooded land on which the society built its own camp. It is worth mentioning that Korczak worked as an educator during the camps for Christian boys in "Wilhelmówka" (1908).
Versatile activity combined with holiday camp experiences became for Korczak an "alphabet of educational practice", which resulted with two holiday camp books: Mośki, Joski i Srule (1909) and Józki, Jaśki i Franki (1910).
In 1921, thanks to Korczak's efforts, a summer camp of the Dom Sierot (Orphan House) named Różyczka was established in the donated and built-up area in Gocławek. In 1940, in order to ensure safety and peace during the war, Korczak organised the last summer camp there for his pupils.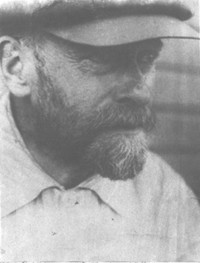 In March 1905, Janusz Korczak received a medicinal doctor's degree and started working in Warsaw at Bersons and Baumans Children's Hospital at 51 Śliska Street. There were 25 beds in this institution. He was obliged to take care of the sick person 24 hours a day and provide advice in the hospital outpatient clinic. It is worth mentioning that he also ran a library.
In 1905-1906, Korczak gained experience as a military doctor after the Russian-Japanese war.
In order to deepen his knowledge, he went to Berlin (1907/1908) for a year and Paris (1910) for half a year where he took part in lectures on paediatrics and special pedagogy. He also visited children's hospitals and children's therapy and education institutions. In 1911, he spent a month in London visiting schools and shelters. During this time he decided to devote himself definitively to working with children and resigned from starting his own family.
During seven years at the hospital (1905-1912) Korczak served children as a doctor, pedagogue and writer. He persevered in popularising paediatric knowledge. At that time, he actively cooperated with magazines: Krytyka Lekarska [Medical Critique](1906-1907), Medycyna i Kronika Lekarska [Medicine and Medical Chronicle] (1909-1910), Przegląd Pediatryczny [Paediatric Review] (1911). He also conducted an intensive lecturing activity.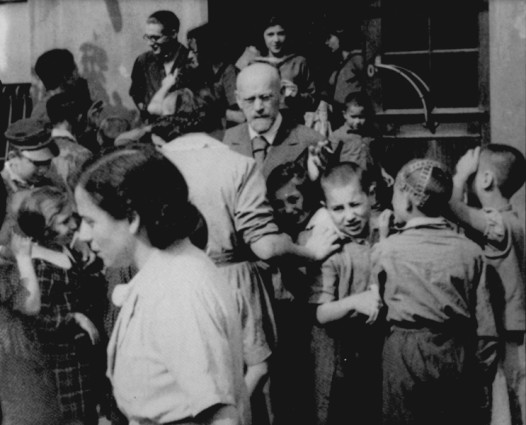 In 1912, Korczak parted with his work in the hospital and he became a director of Dom Sierot at 92 Krochmalna Street, under the care of the Orphans' Society. He cooperated with Stefania Wilczyńska and took care of 85 pupils together with her. For Korczak, Dom Sierot became a place of pedagogical observations of the educational process, and new pedagogical ideas were born there (various forms of self-government, work on publishing the Tygodnik Dom Sierot [The Orphan House Weekly], whose co-creators were children). Korczak strived for good contact between his orphans and the surroundings. To this end, he organised a campaign of 200 fuchsia pots, which the children gave to their neighbours from the ground floor apartments. In February 1913, Dom Sierot was officially opened.
In 1914, Korczak was called up by the army, initially as the head of the field division hospital in Hlybochok, Ukraine, and later became a paediatrician in a shelter for Ukrainian children. In 1918, after returning to Warsaw, he started work again at Dom Sierot.
The years 1918-1931 were the peak period of Henryk Goldszmit's literary activity. At that time, he became an active member of such organisations as: Commission for Educational Organisations, Central Children's Aid Committee, Workers' Childcare Department at the Central Trade Union Commission, Polish-American Children's Aid Committee Foundation.
From November 1919, Korczak and Falska took over the pedagogical management of the orphanage Nasz Dom in Pruszków near Warsaw. He visited the orphanage as a doctor and pedagogue. He made efforts to obtain financial support for the orphanage.
During the Polish-Bolshevik war (1919-1920), Korczak worked as a major of the Polish army in an epidemic hospital in Łódź, then in Warsaw. First he became infected with typhus, then his mother became ill. He took her death very hard.
In 1926, he arranged for the children and young people to publish their own newspaper Mały Przegląd [Little Review], as a weekly attachment to the daily newspaper Nasz Przegląd [Our Review] (later he entrusted its editing to Igor Newerly).
In the 1920s, Korczak established cooperation with educational institutions for teachers and educators, including the State Seminar for Judaism Teachers (1925/1926) – he was a lecturer in psychology of the Study of Social and Educational Work at the Free Polish University (1929) – lectures entitled Children's society [Społeczeństwo dziecięce]. He was particularly closely associated with the State Institute of Special Pedagogy through numerous lectures on school pedagogy.
In 1932, he moved out of Dom Sierot and settled with his sister Anna at Żurawia Street. At that time, he took on new duties, among others as a court expert in children's cases at the District Court at Leszna Street. At the Sickness Insurance Fund he developed projects of courses for nurses.
In 1935, he joined the Polish Radio. Under the pseudonym Stary Doktor ("Old Doctor") he gave numerous talks for children, which was a novelty on the Polish radio; he was invited to Antena [Antenna]. In 1938, he presented a novel Playful Pedagogy [Pedagogika żartobliwa] on the radio.
In 1934 and 1936, he travelled to Palestine. He was fascinated by the holy land of three religions, the movement for the national rebirth of Jews and the kibbutzim experience.
In 1937, Korczak was awarded the Golden Laurel of the Polish Academy of Literature for his outstanding literary work.
In 1938, he collaborated with magazines published in Hebrew and Jewish languages, including: Olami, Olami Hakata, Hechaluc Hacair, publishing stories, monologues and fairy tales for children.
During the first days of the war, Korczak, together with his tutors and co-workers, was on duty day and night at Dom Sierot. In September 1939, he spoke to children and parents on the Polish Radio, calling for peace and quiet.
From the first days of the war Korczak constantly strived for support for Dom Sierot, organising summer camps (June-July 1940). He provided food to children through almsgiving activity. In 1940, Dom Sierot was resettled to the ghetto, while Korczak was arrested for not wearing a band with the Star of David, ordered by the occupation authorities, to Jews.
The physically exhausted educator returned after a month of arrest to Dom Sierot at 33 Chłodna Street.
In October 1941, Dom Sierot was moved to 16 Sienna Street – 9 Śliska Street. All the time, Korczak fought for financial resources and donations to support children. Despite the hopeless situation he organised secret schooling, cultural and educational life through staging fairy tales and other texts.
At the beginning of 1942, Korczak took care of a neglected boarding house for orphans at Dzielna Street.
From May to August 1942, at nights, Korczak wrote Diary [Pamiętnik], which painted the tragic picture of the Nazi occupation.
On 18 July 1942, the last play entitled The Post Office by Rabindranath Tagore was put on at Dom Sierot. It prepared the pupils for a conscious and dignified death.
On 22 July 1942, on Korczak's birthday, the action of extermination in the ghetto began.
THE LAST JOURNEY OF JANUSZ KORCZAK AND THE CHILDREN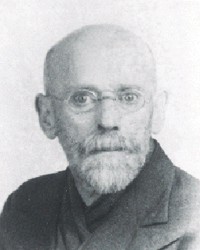 On 6 August 1942, the Nazi occupiers led out Korczak, Wilczyńska, all co-workers and two hundred orphans from Dom Sierot.
The last man who saw Korczak at the Umschlagplatz and wanted to help him was Nachum Remba (an activist of the underground self-defence organisation in the ghetto).
The following text is from an account of the last journey of Korczak and his children by Nachum Remba: All the children were ordered in groups of four, with Korczak at the head, with his eyes facing upwards, he held two children by their hands and led the march. The second unit was led by Stefania Wilczyńska, the third one – Broniatowska (her children had blue backpacks), the fourth unit was led by Szternfeld from the boarding school on Twarda Street. These were the first Jewish lines that went to death with dignity. (…) Even the Order Service stood at attention and saluted. When the Germans saw Korczak, they asked: Who is this man.
All of them were transported in covered, crowded wagons with barbed wire windows to the extermination camp in Treblinka, near Małkinia.
JANUSZ KORCZAK AND CHILDREN IN TREBLINKA
There is one named memorial among seventeen thousand stones in the symbolic cemetery in Treblinka: JANUSZ KORCZAK (Henryk Goldszmit) AND CHILDREN. The educator and doctor became a symbol of the martyrdom of the deported and murdered people. Janusz Korczak remained faithful to his children and vocation to the end.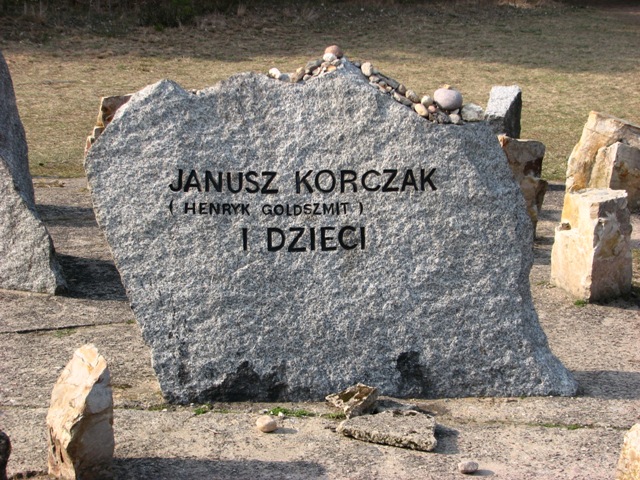 Bibliography:
M. Falkowska, Kalendarz życia, działalności i twórczości Janusza Korczaka, Warsaw 1989, pp. 344-372.
M. Falkowska, Śladami Janusza Korczaka po Warszawie, Warsaw, p. 2-32.
W. Okoń, Wizerunki sławnych pedagogów polskich, Warsaw 1993, pp. 220-245.