The Righteous from the Treblinka area – Stanisław and Julianna Postek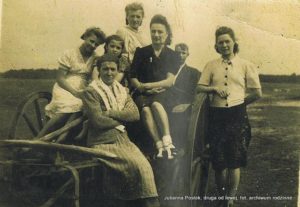 The Postek couple were the owners of a farm just outside of Stoczek Węgrowski in Masovia. They had eight children. It is unclear when exactly they were first asked for help by Jews, but in the summer of 1942, three people, acquaintances of Stanisław, came from the Warsaw ghetto. Later, in August 1942, Mr Hajkiel from Stoczek and two other people who avoided being transported to Treblinka, which was only situated about a dozen kilometres from Stoczek, came. All of them were given shelter at the Posteks' house. Later still came three others, followed by the Majorek brothers, their sister and her child. They came in August 1943, after the prisoners' revolt in the Treblinka camp.
Little is known about the Jews, as the Posteks did not wish to include their children in the conspiratorial process, and did not allow them to enter the hiding places. The Posteks were denounced in September 1943, and at the break of dawn on 5 September 1943, German soldiers surrounded the house. They knew what to look for and found over a dozen people in a cellar in the yard. They shot some of them on the spot and executed the rest in the nearby forest.
Some of the Posteks' children managed to sneak out, but Stanisław and two of his sons were taken to the station. Julianna was left in the yard, but not forgotten by the soldiers. They returned with clubs in their hands and beat her to death for 'baking bread for Jews'. A neighbour buried her mutilated body the next day.
Stanisław did not return. Taken to Auschwitz, he died within several months. The sons, Wacław and Henryk, were initially released by the Germans, but arrested again in June 1944 and never heard from again.
The people whom they helped: a man from Stoczek named Hajkiel, two Majorek brothers and their sister with a child, a few people unknown by name and surname.
The materials used come from the collections of the documentary program "The Polish Righteous – Recalling Forgotten History", carried out by the Museum of the History of Polish Jews. They are available at www.sprawiedliwi.org.pl. The program is under the honorary patronage of the President of the Republic of Poland.