The Righteous from the Treblinka area – Stanisław and Maria Pac and Fr. Kazimierz Wasiak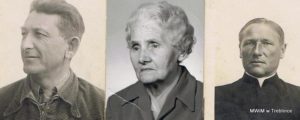 In the spring of 1940, a distant cousin of Maria Pac arrived in Życzyn – Józef Śmietanowski. He asked her to help and hide his family: his wife Irena née Waksenbaum and children – Stefan and Aleksandra. In Warsaw they were at risk of being closed in the ghetto.
The Pac family took care of the Śmietanowskis introducing them as their cousins, which did not arouse anybody's suspicions about their Jewish origin. Fr. Kazimierz Wasiak arranged a birth certificate for Irena Śmietanowska in the family name Bednarska. Józef Śmietanowski helped in the mill, but in February 1942 he died tragically and his family had to subsist on the sole help of the Pac family.
In the same year, Życzyn was visited by the commanding officer of the criminal police in Dęblin, searching for the Jewish family in hiding. Stanisław Pac managed to convince him that no Jewish woman with children was hiding in Życzyn. The next day, the Pacs transported the Śmietanowskis to Warsaw where Fr. Kazimierz Wasiak prepared for them a hiding place in the presbytery. In 1943, the Śmietanowski family returned to Życzyn, where they lived to see the end of the war.
The Pac family also helped Jewish Maria Rybakowska and her daughter Katarzyna. In 1942, Fr. Wasiak brought Mrs Rybakowska to Życzyn where both women found shelter in the Pac family. Maria Rybakowska lived to see the end of the war and in 1945 emigrated to Argentina.
All the help given to the Jewish families in need by the Pac family and Fr. Wasiak was selfless.
Documentation concerning the help given to people of Jewish origin during the Nazi occupation by Stanisław and Maria Pac and Fr. Kazimierz Wasiak